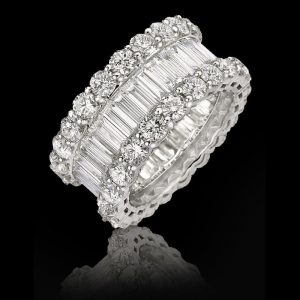 WELCOME TO EL HAGE JEWELERS
A business established since 1953 El Hage jewelers has grown quickly to become one of the major jewelry supplier in the region and the world. Based on good talents and remarkable taste, the designs created by El Hage Jewelers found its direct way to the client's minds and hearts.
OUR MISSION
We have always strived to deliver unparalleled service while offering an exceptional selection of fine timepieces, jewelry design and exquisite gemstones.
We realize the importance of earning your trust and we are committed to maintaining the highest levels of professionalism and integrity throughout all the operations. In addition to our efforts to exceed clients' expectations in the areas of selection and value, we are focusing our attention towards corporate responsibility.
We pride ourselves on delivering exceptional service and top-quality jewelry to our loyal customers. As a family-owned company, we value your business and want to make your purchasing experience effortless as you choose from our exceptionally crafted pieces. Our customer service representatives are available to answer any of your questions promptly and with experienced knowledge. We look forward to becoming a part of your special occasion.
Our commitment to our guests is to make the seemingly complex process of buying a diamond, simple.
A diamond truly is a unique gemstone. The word diamond comes from the Greek word adamas which means unconquerable.
Although diamonds are the hardest substance known on earth, they require care to preserve their brilliance. info@hagejewelers.com
PO Box 295, Lebanon
Val De Zouk, Kaslik
00961 9 224 122

Mon-Fri: 10:00 am – 6:00 pm
Sat: 10:00 am – 2:00 pm
Sunday: Closed
Nadim El Jisr Street, Tripoli
00961 6 444 544
Mon-Thu & Sat: 10:00 am – 6:00 pm
Fri: 10:00 am – 2:00 pm
Sunday: Closed